Home: https://www.desertgold.us
Our Vernon Kilns Page: https://www.desertgold.us/VernonKilns/VernonKilns.html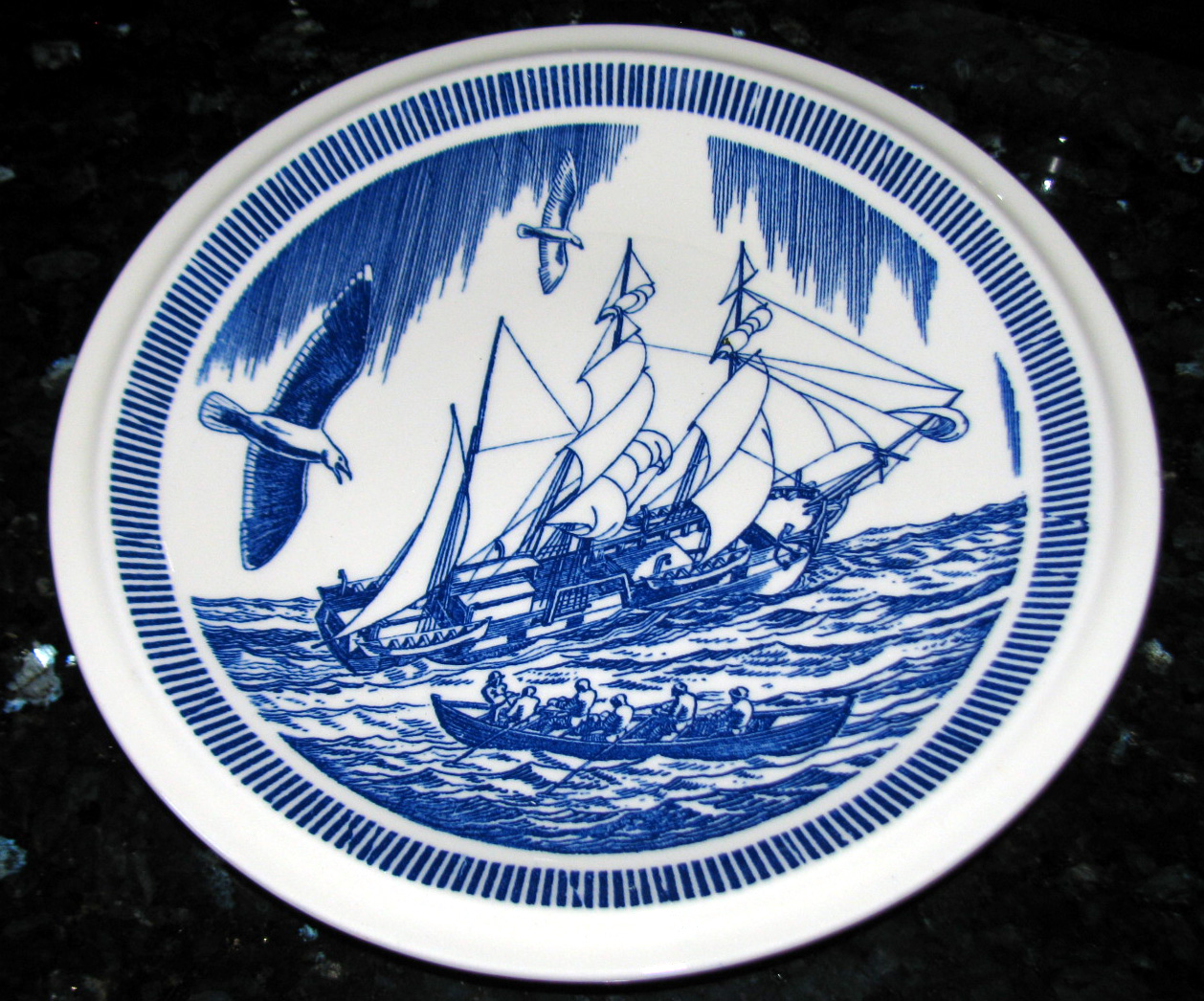 {Close-up photos below.}

Moby Dick
Spectacular Vintage (1939-1942) Plate
Dark Blue Transfer on Off-White
Vernon Kilns "Ultra" Rim Form


Designed by the Renowned Artist
Rockwell Kent
for
Vernon Kilns California Pottery
ca 1939-1942

Approximate Dimensions:
10 3/8" in diameter


This wonderful plate was designed by Rockwell Kent for Vernon Kilns California Pottery.


About Vernon Kilns. Vernon Kilns made collectors plates for hundreds of cities and states in the United States, some organizations and institutions, and some for foreign cities and countries. Vernon Kilns closed its doors permanently in the early 1950s.

According to Bill Stern (2001), Vernon Kilns was one of the well known "Big Five" of the Southern California Pottery group (p. 42, California Pottery: From Missions to Modernism). Please see Maxine Feek Nelson's Collectible Vernon Kilns: Identification and Value Guide for more information about Vernon Kilns California Pottery.

This plate is part of Rockwell Kent's Moby Dick series. Rockwell Kent gained fame illustrating Herman Melville's book, Moby Dick, and other books.

The plate is off white on the Ultra shape; the design is dark blue.


Pictured is an ocean scene with a fully rigged three-masted whaler.



In addition, several individuals are valiantly trying to navigate very rough waters in a row boat.

The design on the plate is very nicely detailed!

The back of the plate is marked under glaze with a pre-production code green "5-7".





Condition: The plate is in excellent condition with no nicks, chips, cracks, or scratches. It has been well cared for.

This is a very nice piece of always special Vernon Kilns Rockwell Kent pottery!
Keywords: Art Deco, Catalina, Pacific, English literature, Masters, Bauer, Art glass, Tiffany, Steuben