Our Home: https://www.desertgold.us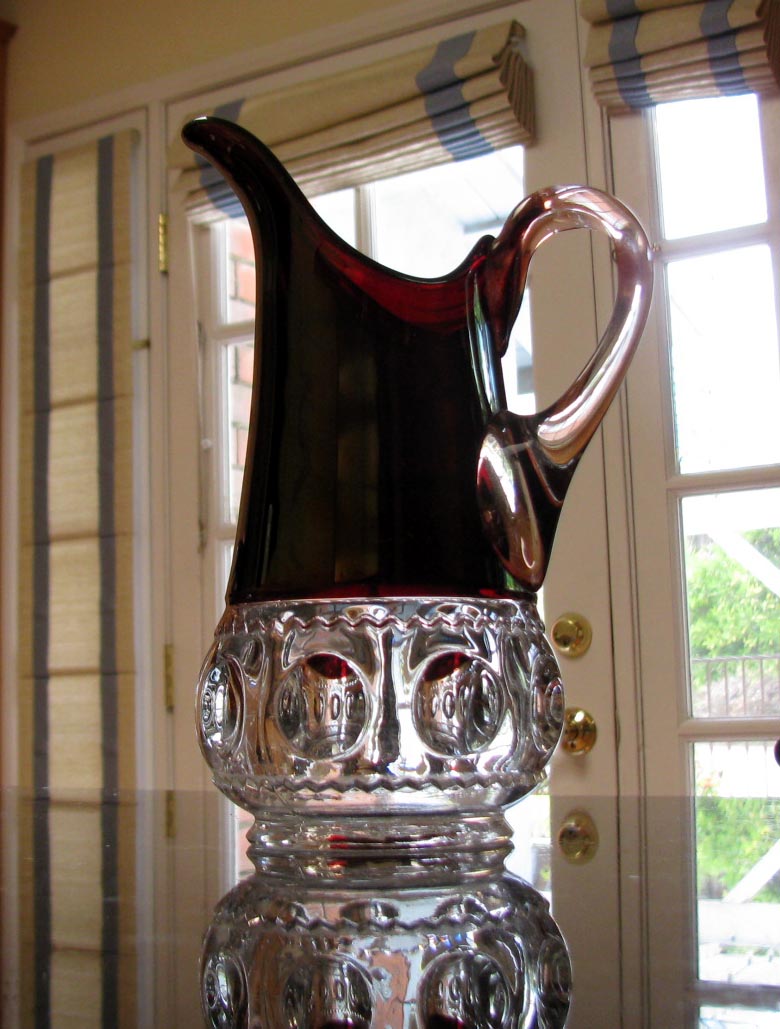 {More Photos Below}

King's Crown Thumbprint
Ruby-Stained Glass

Pitcher
VERY SCARCE ! !

Approximate Dimensions:
5 1/2" (Spout to Handle, incl. Handle) x
4" (Spout to Rim, excl Handle) x
2 1/2" (across rim)
8 3/4" (Highest Point) x
3" (Base D)

This is the very SCARCE, ruby-stained, not flashed, King's Crown Thumbprint pitcher, sometimes called a "milk pitcher" as pictured on p. 48 of William Heacock and Fred Bickenheuser's Encyclopedia of Victorian Colored Pattern Glass, Book 5, U.S. Glass from A to Z.

It is in very good, if not excellent, condition with no chips, cracks, chiggers, flea bites, or restorations. The ruby stain is very dark (not light cranberry) and elegant with very little, if any, color loss, especially considering its age -- only some hardly noticeable flecks on the ruby stain and light rubs elsewhere (as expected with age); the spout and rim are smooth and chigger-free -- this pitcher is NEARLY PERFECT!

There are some small internal air bubbles, commonly associated with older and/or hand-manufactured glass--their presence is reassuring.

King's Crown Thumbprint was made by U.S. Glass (Tiffin), Line #4016, 1890s-1960s and then by Indiana Glass in the 1970s. I do not know which maker made this particular piece and I'd appreciate any help in that regard. Regardless, this is a beauty!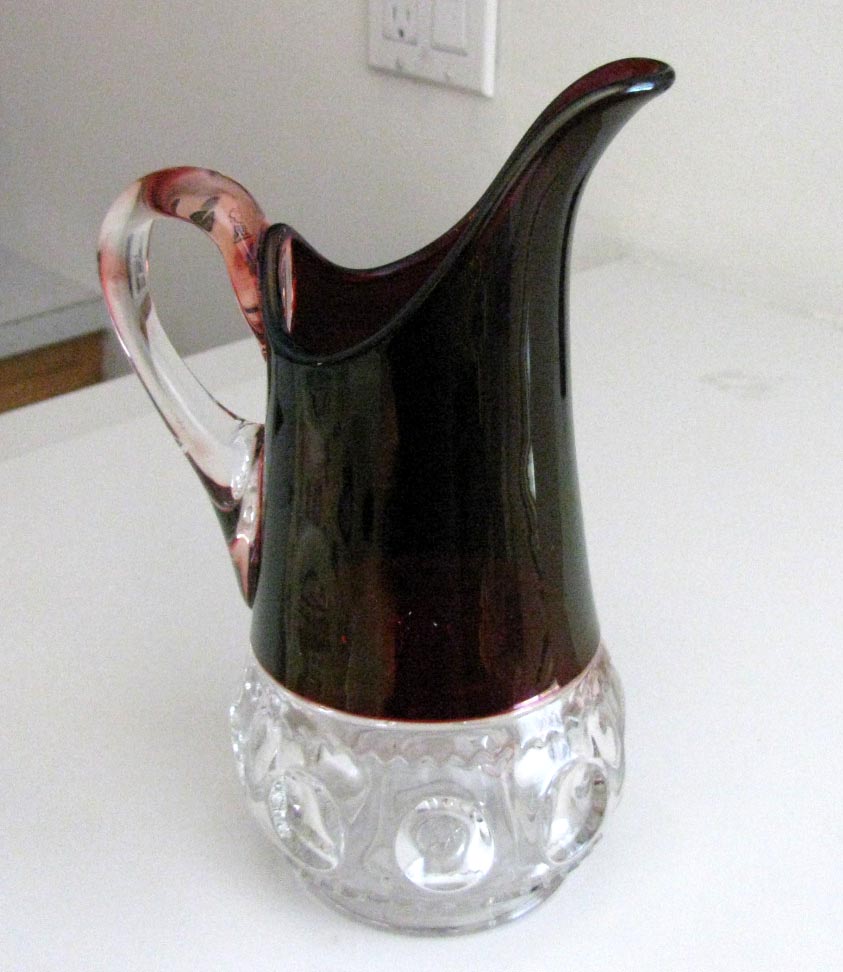 King's Crown Thumbprint, Ruby Stained, Pitcher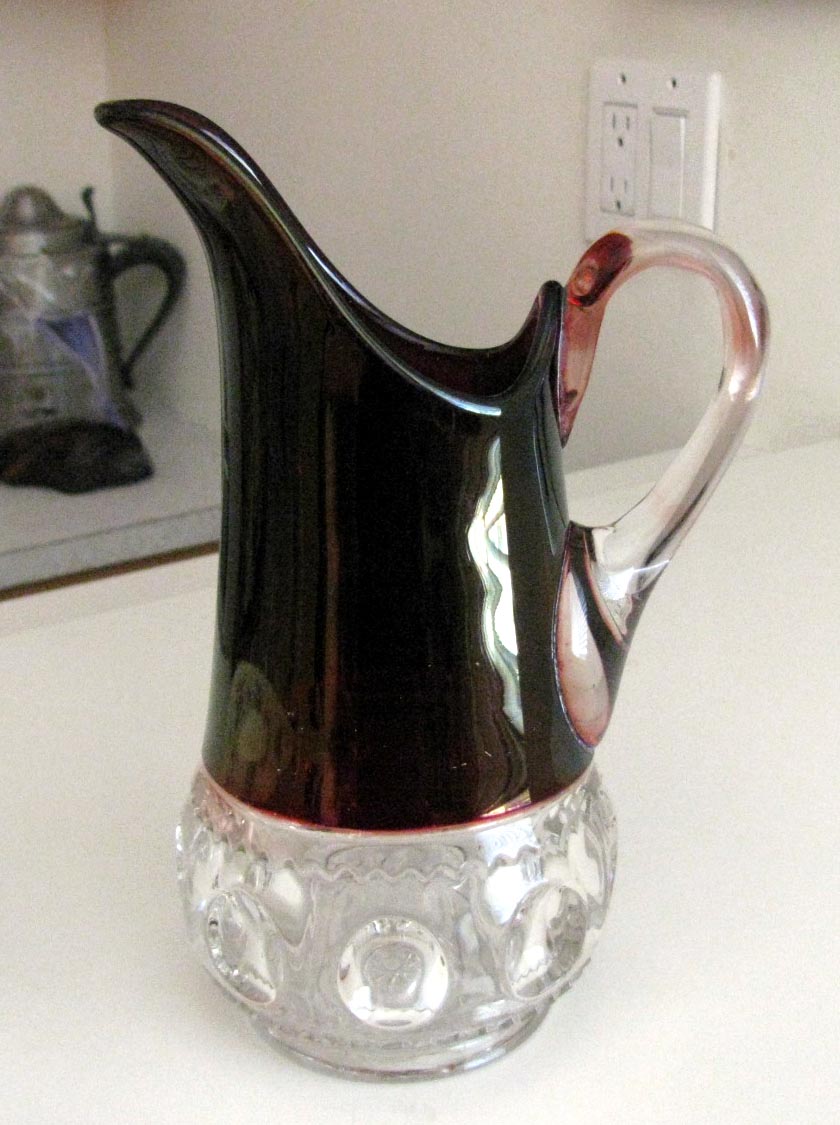 King's Crown Thumbprint, Ruby Stained, Pitcher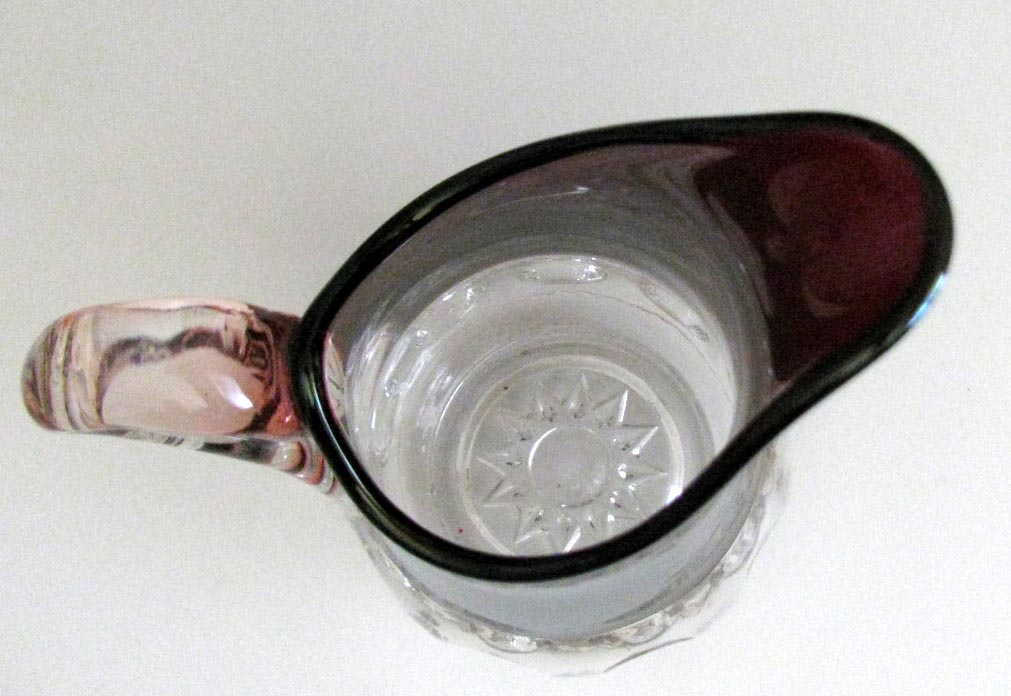 King's Crown Thumbprint, Ruby Stained, Pitcher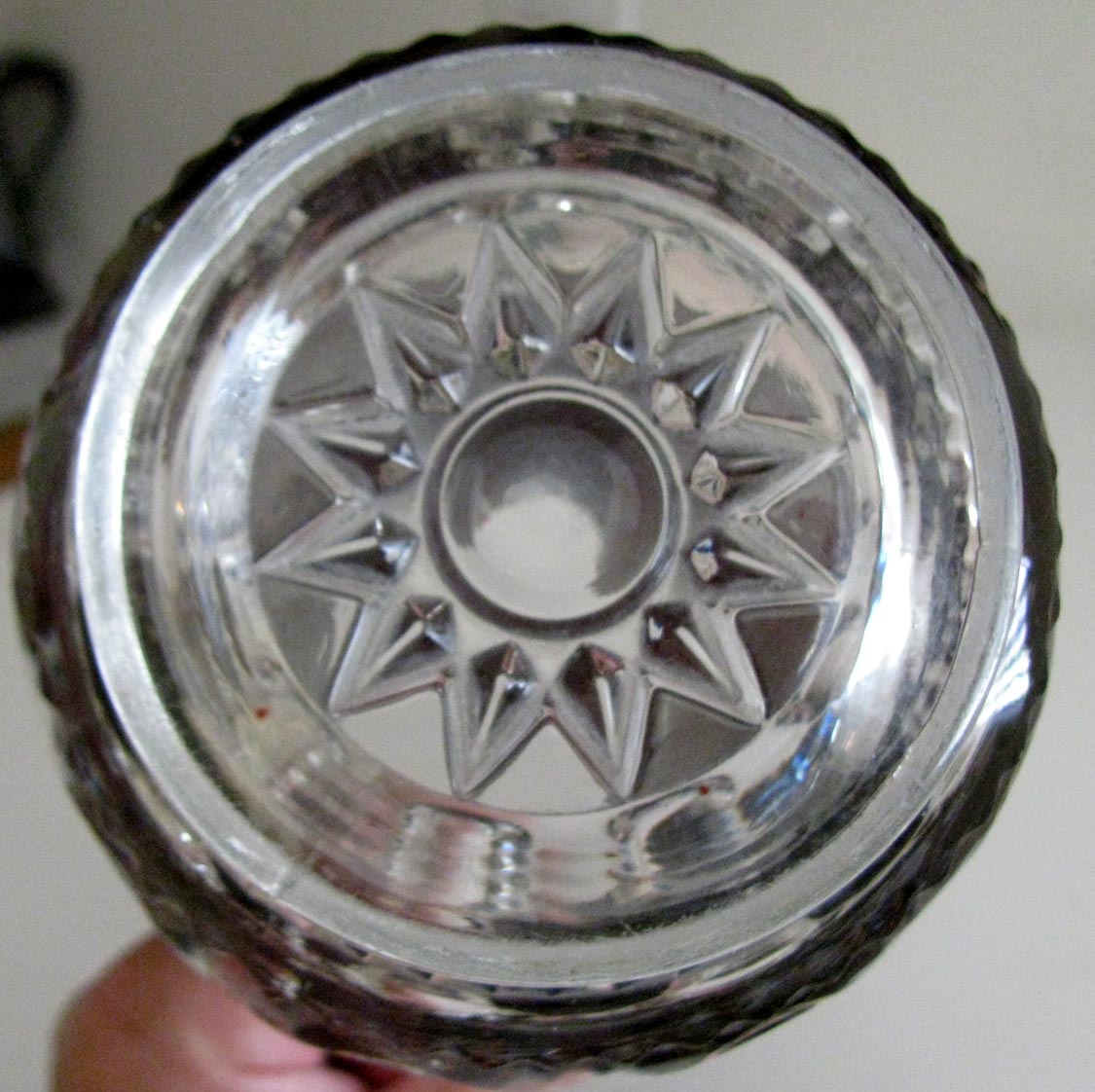 King's Crown Thumbprint, Ruby Stained, Pitcher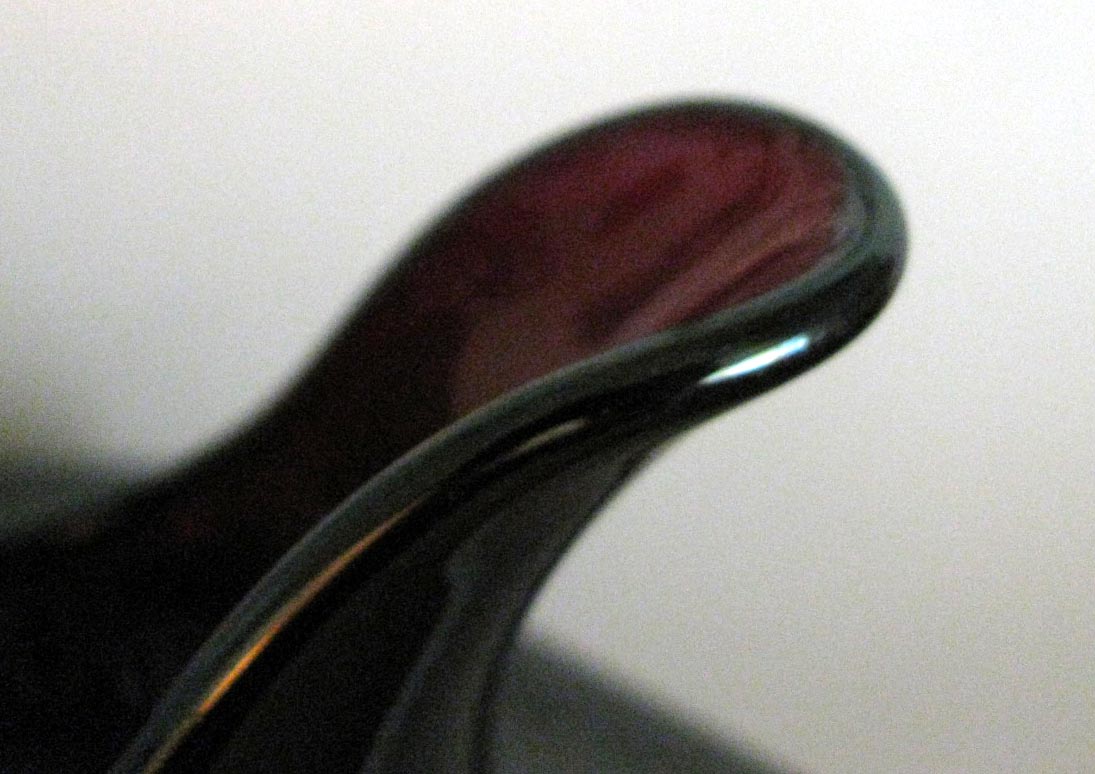 King's Crown Thumbprint, Ruby Stained, Pitcher (The Perfect Lip~)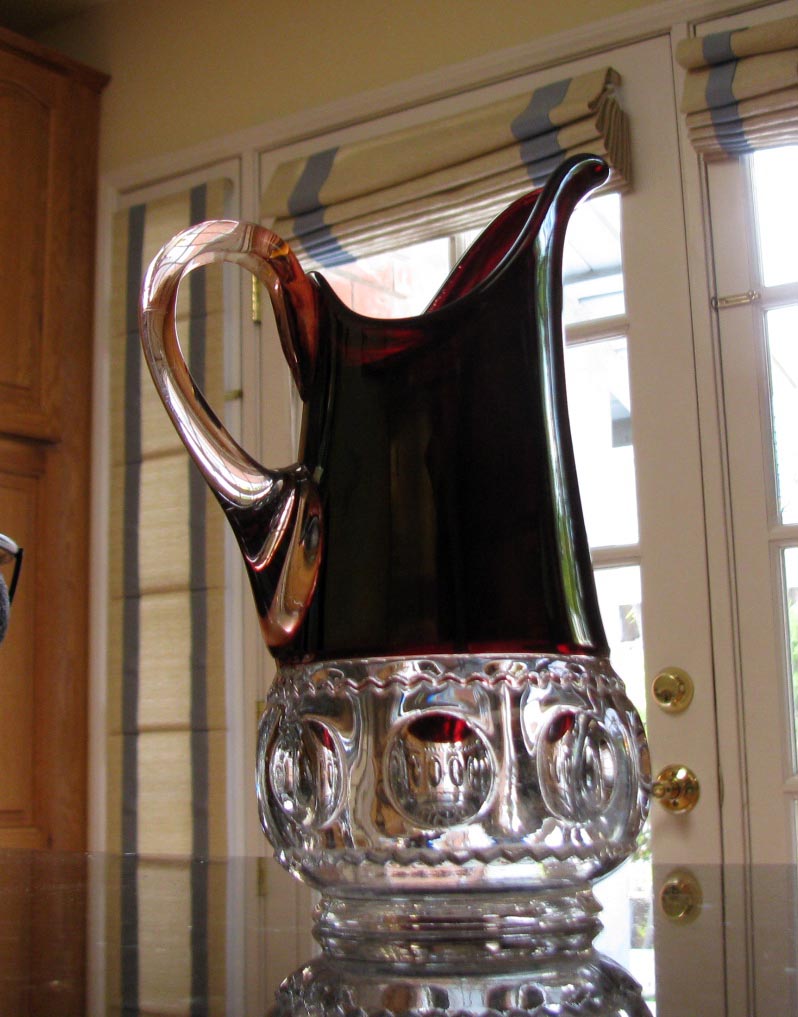 King's Crown Thumbprint, Ruby Stained, Pitcher


Sold by DesertGold, 2010, $103